Well Guard Retail Loss Prevention
The World's Leading Manufacturer of retail loss prevention solutions products: Follow @GuardWell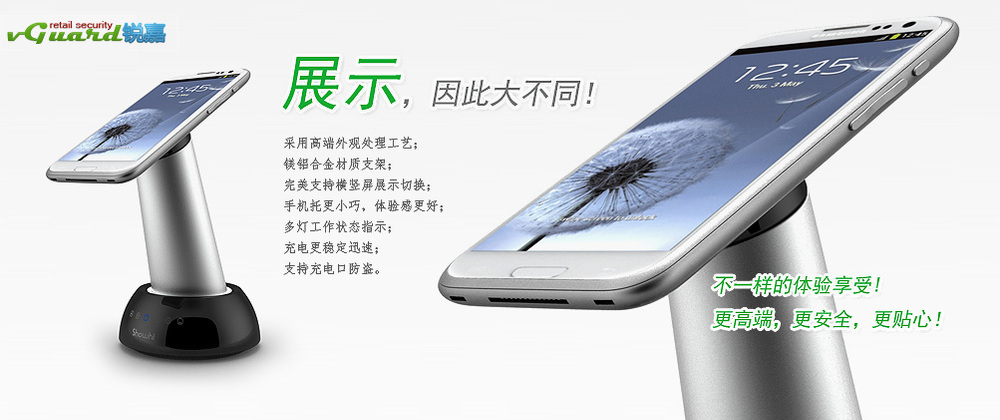 Zhuhai Well Guard Technology Co., Ltd. is dedicated to providing retail loss prevention solutions to a wide selection of retail industries such as fashion, consumer electronic, pharmaceutical and libraries. vGuard® is our Brand. We manufacturers and export top quality EAS systems and accessories to Europe and the U.S.A. Our EAS systems excel in perfect detection of both EAS hard tags and EAS soft labels .They are all microprocessor controlled and designed using the latest technology.Our priorities are perfect quality and high level technical support. vGuard® assists retailers worldwide in securely placing expensive, fully functional consumer electronics in the hands of shoppers, providing a positive experience resulting in increased SALES.
This is accomplished through visually pleasing components that non-obtrusively secure displayed merchandise in retail and exhibit settings. The displays allow customers to interact with charged, fully-functional electronics and enable the relay of product features and benefits via interactive digital media screens, enhancing the buying experience.
vGuard® is committed to delivering the best consumer shopping experience, best product quality, best service and support at the best value.
vGuard® Global is a leading innovator and develops retail display security systems that drive sales and reduce shoplifting. Through such revolutionary products as the first detachable sensor, universal claw and our alarm-Charge Power and Alarm system, vGuard has set the bar high, providing the best products at the greatest value with the most comprehensive support from Well Guard.