Display Merchandise Recoiler Pull box vG-PB091
Model No.︰
vG-PB091
Brand Name︰
vGuard
Country of Origin︰
China
Unit Price︰
US $ 2.1 / pc
Minimum Order︰
1 pc
Product Description
Display Merchandise Recoiler pull box vG-PB091
Display security pull box,recoiler,tether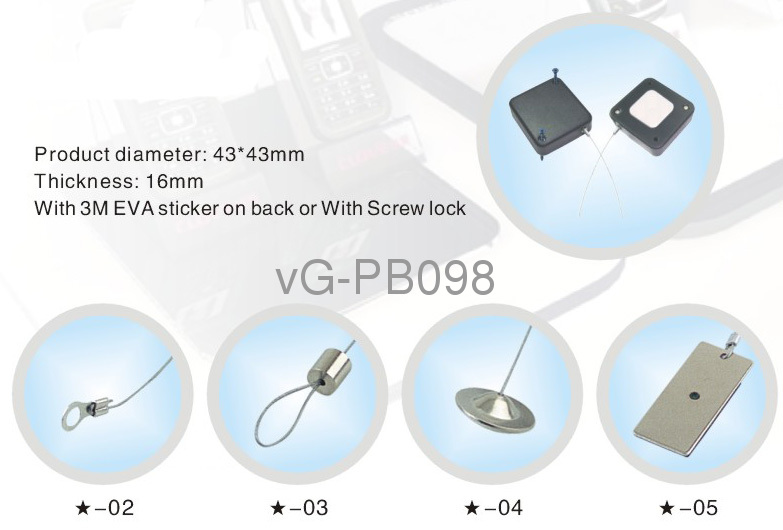 vG-PB091 Anti-shoplifting Recoilers (Drip-shaped recoiler), Use For Merchandise Anti-shoplifting

Display Merchandise Recoilers, Pull Box, Pullbox , Pullboxes, Pull Box Recoilers, Pull Box Recoiler, Merchandise Recoiler, Tether Systems, Recoiler Loss Prevention, Anti-shoplifting, Retractable Cable.

This is a small reel suitable for table top displays. For the situations there won't be very high requirement on cable retraction force, this would be the most economical choice.

This reel can work together with any end fitting or mounting base / holder (as shown on our website) from us. The box can be fixed on the table top / back of display cabinet by screw or adhesive tape.
Box is made of ABS plastic, with stainless steel cable winding onto the reel inside. Top (A) / Side (B) exits for cable ends are available as options for you.
Standard configurations for stock goods are as follows as routine:
Product size: Dia 33x1.8Cm
Box color: white or black
Cable diameter: 0.06Cm (0.0327")
Cable color: with transparent nylon coated on the outside of the cable
Cable length: 25-90Cm
Cable exit: A (on the top)
Cable retraction force: 1/4Lb (90g)
Provide your order quantity can be more than 5000 pcs per time, we can tailor make the following configurations as options for you:
Box color: Customized. Kindly provide the required color code / sample to us in advance.
Fitting for box: According to your requirement, we can also affix the adhesive tape to the box or prepare screws in advance for you.
Logo on the box: we can print legal company name or logo labels on the box for you as per requested.
Cable diameter: 0.6Cm (0.0327") or 0.9Cm (0.043")
Cable color: with transparent / black nylon coated on the outside of the cable
Cable length: we can tailor make any cable length less than 100Cm (39.37") as per requested
Cable exit: Top (A) / Side (B)

We believe, Professional, make excellent products, choose us, choose the Well Guard. If you need more details about our products, please send email to us, we will do our best to help you.

Recoiling Tether for Mobile Phones, Retail Loss Prevention, Retail Security Tags , Retail Security Labels, Retail Security, Mobile Phone Display, DisplayMaster Merchandise Recoiler, Pull Box Merchandise Tether, Mechanical Retractor, Security Pull Box, Security Recoiler, Merchandise security tether, retracting security cable, retracting display cable, Cord Reels, Reels, Protex Retractor, Retail Theft Control, Mechanicail Retractor, Anti-shoplifting Recoilers, Tethers,Retractors, Recoiler, Tethers, Retractable Pull Boxes.
We are China Anti-shoplifting Recoilers manufacturer offer best Anti-shoplifting Recoilers OEM, ODM,service.

We are

China pull box manufacturer

offer best pull box OEM, ODM,service.
Price Terms︰ FOB
Payment Terms︰ TT
Packing︰ 500pcs/ctn 21kg/ctn
Standards Certificate︰ ISO9001 ISO9004
Related Products