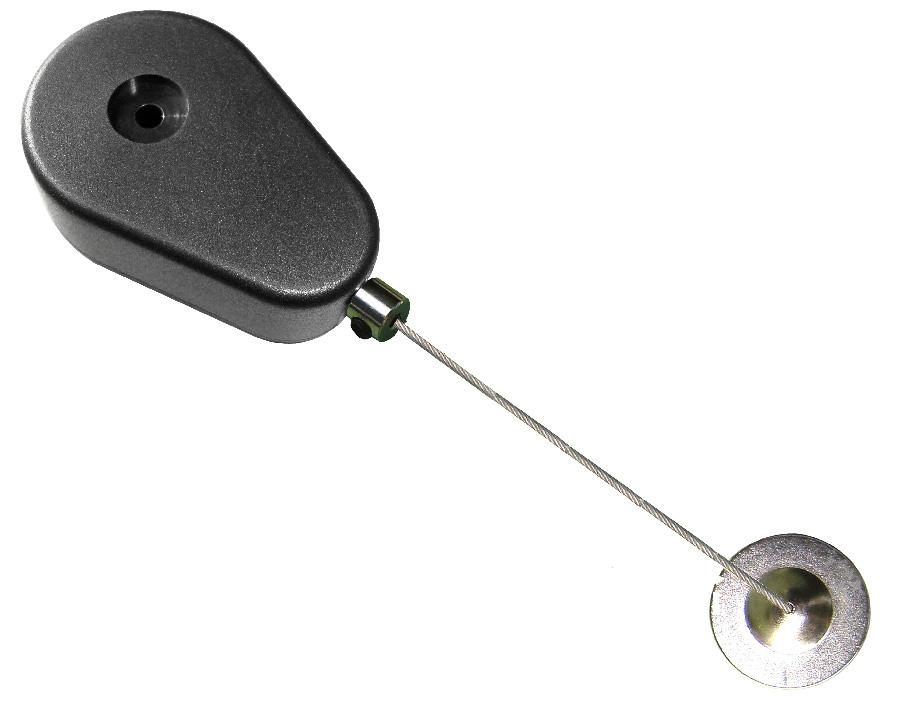 Display Merchandise recoiler
Model No.︰
vG-PB094
Brand Name︰
vGuard
Country of Origin︰
China
Unit Price︰
US $ 2.35 / pc
Minimum Order︰
1 pc
Product Description
Display Security Recoiler | Pull box vG-PB094
vG-PB094 Anti-shoplifting Recoilers (Drip-shaped recoiler), Use For Merchandise An-shoplisfting
Display Merchandise Recoilers, Pull Box, Pullbox , Pullboxes, Pull Box Recoilers, Pull Box Recoiler, Merchandise Recoiler, Tether Systems, Recoiler Loss Prevention, Anti-shoplifting, Retractable Cable.are it's alias.
This is a small reel suitable for table top displays. For the situations there won't be very high requirement on cable retraction force, this would be the most economical choice.

This reel can work together with any end fitting or mounting base / holder (as shown on our website) from us. The box can be fixed on the table top / back of display cabinet by screw or adhesive tape.
pull Box is made of ABS plastic, with stainless steel cable winding onto the reel inside. Top (A) / Side (B) exits for cable ends are available as options for you
pull boxes Standard configurations for stock goods are as follows as routine:
pull box size:5.3x3.3x1.8Cm
pull Box color: white or black
Cable diameter: 0.6mm-1.1mm (0.0327"normal)
Cable color: with transparent nylon coated on the outside of the cable
Cable length: 96-150Cm (37.8")
Cable exit: A (on the top)
Cable retraction force: 1/4Lb (120g)
Provide your order quantity can be more than 5000 pcs per time, we can tailor make the following configurations as options for you:
Box color: Customized. Kindly provide the required color code / sample to us in advance.
Fitting for box: According to your requirement, we can also affix the adhesive tape to the box or prepare screws in advance for you.
Logo on the box: we can print legal company name or logo labels on the box for you as per requested.
Cable diameter: 0.083Cm (0.0327") or 0.11Cm (0.043")
Cable color: with transparent / black nylon coated on the outside of the cable
Cable length: we can tailor make any cable length less than 100Cm (39.37") as per requested
Cable exit: Top (A) / Side (B)

We believe, Professional, make excellent products, choose us, choose the Well Guard. If you need more details about our products, please send email to us, we will do our best to help you.

Recoiling Tether for Mobile Phones, Retail Loss Prevention, Retail Security Tags , Retail Security Labels, Retail Security, Mobile Phone Display, DisplayMaster Merchandise Recoiler, Pull Box Merchandise Tether, Mechanical Retractor, Security Pull Box, Security Recoiler, Merchandise security tether, retracting security cable, retracting display cable, Cord Reels, Reels, Protex Retractor, Retail Theft Control, Mechanicail Retractor, Anti-shoplifting Recoilers, Tethers,Retractors, Recoiler, Tethers, Retractable Pull Boxes.
We are China Anti-shoplifting Recoilers manufacturer offer best Anti-shoplifting Recoilers OEM, ODM,service.


We are China pull box manufacturer offer best pull box OEM, ODM,service.http://www.welguard.com
vG-PB094 Retail Security Tethers pull box recoiler

vGuard™ is a leading designer and manufacturer of the vG-PB094 retail security tethers. The vG-PB094 is a compact, attractive way to deliver theft-deterrence and customer convenience for point-of-purchase (POP) displays. These products are also referred to as store display security tethers, security cable retractors and store display recoilers.
Featuring the heaviest cable available in a retail security tether, the vG-PB094 has a small, low-profile case that holds the retractable cable. It can be mounted on the inside or outside of a display as a functional and aesthetic component of an effective point-of-purchase display presentation. With seven designer colors available, the vG-PB094 display security tether blends in with any display to create a positive, interactive customer experience. It is particularly well-suited for use with mobile phones and other products of similar size. vGuard™ 's vG-PB094 retail security tethers are rugged and designed for maximum life in demanding store display use.



There are many options for the cable, end fitting, and box. If you do not see an option that you require, please send us an e-mail and we will address your request, or order a stock vG-PB094.

Stock Retail Security Tethers

vGuard™ offers 2 stock vG-PB094 security tether products that can be purchased online. All units are fully assembled and ready to use.
The vG-PB094-P1T has a 36 inch (914.40 mm) extension with 0.25 lb. (0.11 kg) pull force. The end detail is 0.88" (22.23 mm) x 1.38" (34.93 mm) metal plate with tape.
The vG-PB094-P2T also has a 36 inch (914.40 mm) extension with 0.25 lb. (0.11 kg) pull force, but the end detail is a .196" (4.978 mm) ring terminal.

Part Number
Max. Cable
Pull Force (lbs)

Max. Cable
Pull Force (kg)

Cable Extension
Length (in)
Cable Extension
Length (mm)
vG-PB094-P1T
0.13
0.06
60.00
1500
vG-PB094-P2T
0.25
0.11
36.00
1000
vG-PB094-P3T
0.5
0.23
36.00
914
vG-PB094-P4T
0.75
0.45
24.00
600
vG-PB094-P5T
1
0.90
24.00
600
vG-PB094-P6T
1.25
1.00
24.00
600
vG-PB094-P7T
1.5
1.12
24.00
600
vG-PB094-P8T
1.75
1.35
20.00
500
Custom Retail SecurityTethers,Technical Considerations

For many applications, a stock retail security tether will do the job. Where a custom retail security tether is necessary, vGuard™ Spring works with customers to engineer a custom solution, often using a stock retail display security tether as a starting point for the new design or prototype.
vGuard™ can offer design and engineering support for early-stage product development or can simply provide a quote for the desired quantities of fully-engineered and ready-to-use retail security tether.
The design and engineering process includes:

Initial Design Review
Prototyping
Testing
Production – Short run or long run production
Retail security tethers are typically specified and engineered with the following in mind:

Pull force - 0.13 lb. (0.06 kg) or 0.25 lb. (0.11 kg) or 0.5 lb. (0.23 kg)
Cable length options - 36" (914.40 mm) or 48" (1,219.20 mm)
Optional add-on for double-sided tape
End fitting - many options available
Cable exit location - point or side
Box color - black, green, magenta, yellow, blue, white, gray
Logo on box - vGuard™ logo or custom logo; minimum quantity of 8,000 pieces and additional setup charges for customized logo
vG-PB094 dimensions are shown in drawing.

There are many options for the cable, end fitting and box; complete the vG-PB094 specification form for all custom requests.
Applications / Uses for Security Tethers

Retail security tethers are used in store displays and point-of-purchase presentations. Products that are typically displayed using a vG-PB094 security tether include:
Smart phones
Cell phones
Point-and-shoot cameras
Many more
vGuard™ Manufacturing Process for Retail Security Tethers

vGuard™ Spring utilizes highly customized production equipment, lean manufacturing techniques and principles, and ISO 9001:2008 certified procedures to provide our customers with a streamlined and efficient manufacturing process to produce vG-PB094 retail security tethers.
Benefits of working with vGuard™ Spring include reduced lead times, high quality control and highly competitive costs.

Buy Retail Security Tethers Online or Contact vGuard™ for Custom Retail Security Tethers

Customers can buy stock retail security tethers online or complete the vG-PB094 specification form or further assistance with retail security tethers from vGuard™.
Price Terms︰ FOB
Payment Terms︰ TT
Packing︰ 500pcs/ctn 21kg/ctn
Standards Certificate︰ ISO9001 ISO9004
Related Products