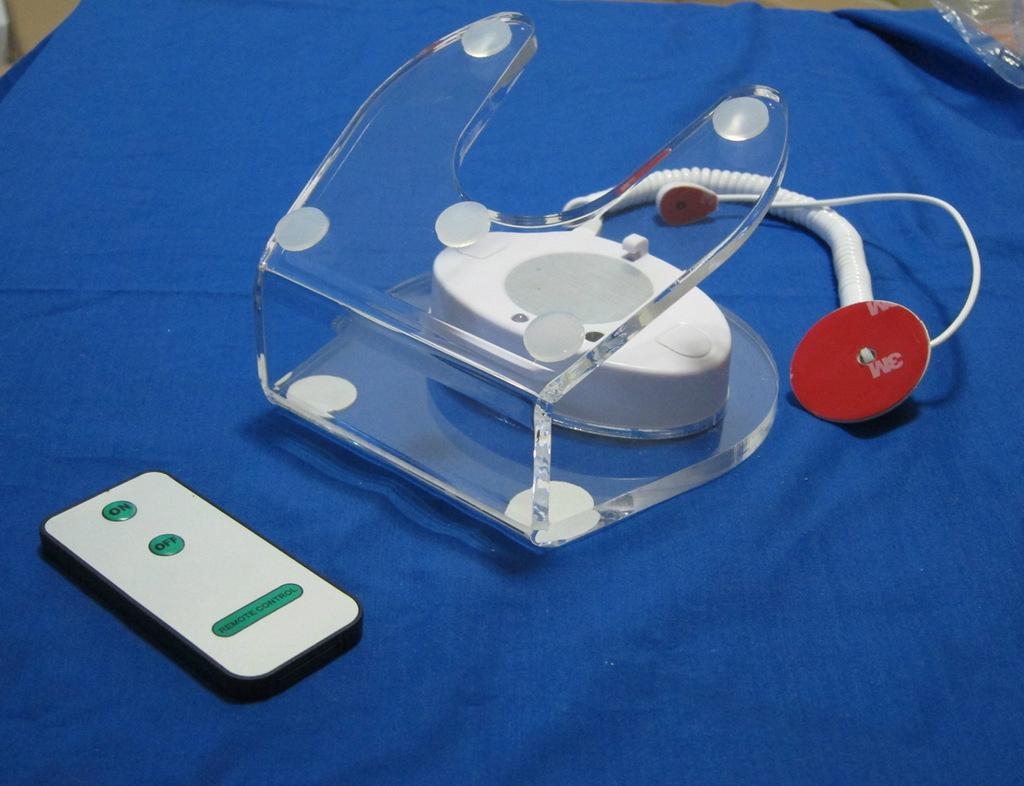 Acrylic Security display holder for IPad with Charge And Alarm
Model No.︰
vG-AHD015
Brand Name︰
vGuard
Country of Origin︰
China
Unit Price︰
US $ 42 / pc
Minimum Order︰
1 pc
Product Description
Ipad/iphone security display stand
1.Product Information:
vGuard™ company focuses on the terminal display product development and production of security, self-developed series of products on display real machine alarm.
This elegant Hot security cellphone /mobile phone display holder /stand with charging and alarm , high practical, the use of UV surface treatment technology, which greatly promoted the launching of experiential marketing have to promote improvement in performance and product security
Now widely used in various types of mobile phones, cameras, MP4 and other Consumer Electronics products for Mobile phone supermarkets, used for loss prevention security of telecom mobile Unicom, digital city, digital camera counters, GPS counters, MP4 counters, appliances hypermarkets, supermarkets and various small electronic products exhibition of digital
It's Upgradethe marketing model from the traditional "tell-style" to the innovative "experiential",consumers select products and convenient services from the staff "recommended style" which facilitate the consumers while improving business performance.
Hot security cellphone /mobile phone display holder /stand with charging and alarm are composed ofthe host alarm system, multi-touch alarm sensor, 3M adhesive and other components. Simple installation methods, such as installation of alarm installed in display racks or display case, Sensor (alarm probe) adhere tothe product
Customers can easily take down from the shelf displays, free to operate and feel the exhibits' features,function and appearance,If somebody want to take away the display, the alarm will sound a continuous alarm immediately, the alarm will not stopped until the Manager to reset processing
Technical parameter
1.Product Height: 120*138*137MM
2.Internal Battery type: 3.7V rechargeable lithium battery.
3.External power adapter: DC5V 1000MA
4.Battery Standby Time: 2 months
5Charge indicator: charging in red , full in green
6.Alarm sound: 105DB.
7) Alarm indication: LED red flashes.
8) Shell Material: ABS
9) Shell Color: bright black , pearl white
3.Function:
1) Host Base with Charging Function, Charging monthly , Repeated use.
2)Display Charging Function apply to : Mobile Phone , DC camera , Tablet PC
3)Disconnection Alarm Function:Three Contacts disconnection alarm
4)Low Voltage Alarm Function :Voltage Less 3.3V Alarm ,remind the charging
5)Short Circuit Alarm Function : circuit is short-circuited ,automatic alarm
6)Infrared Remote Control Function : Remote Start and Disarm the Alarm.
7)Installation Method : Double ways in 3mm adhesive or use screws tighten.
4.Packaging materials
1).Individual Packing: PE , PCS, the color- box packing , size 170 * 120 * 80MM
2).Carton packing: standard export carton, size: 50 * 35 * 19CM.
| | |
| --- | --- |
| Name: | Ipad/iphone security display stand |
| Brand Name: | vGuard™ |
| Size: | 160*148*102MM |
| performance: | High standard of craftsmanship |
| Material: | Polycarbonate plastics |
| function: | anti-theft ,charging |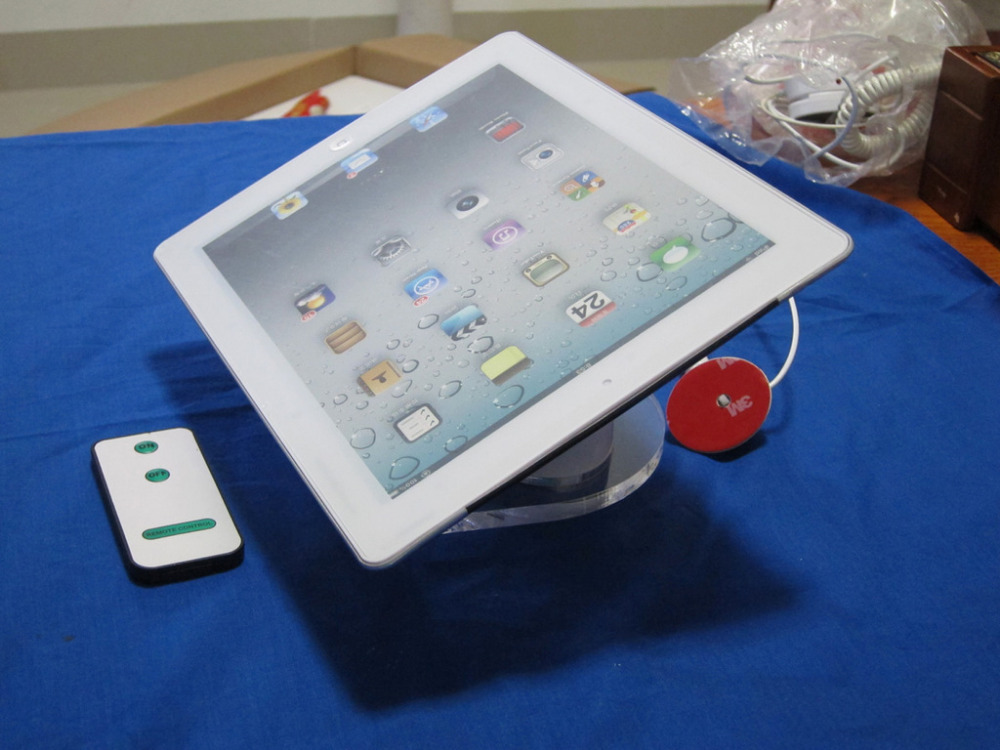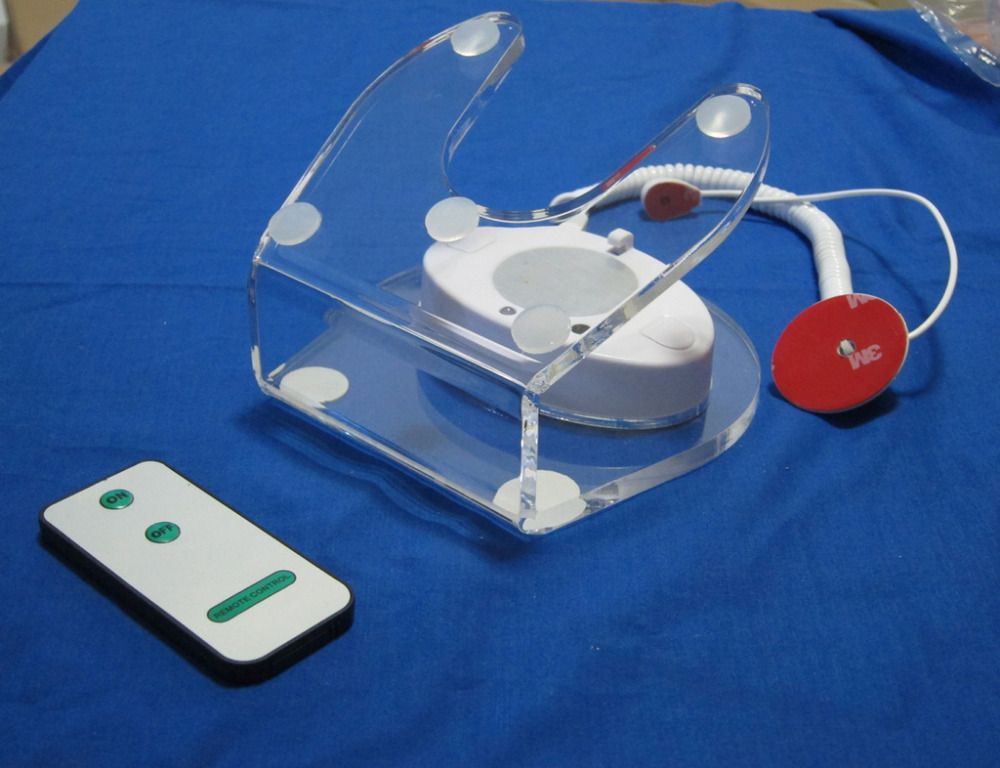 Related Products