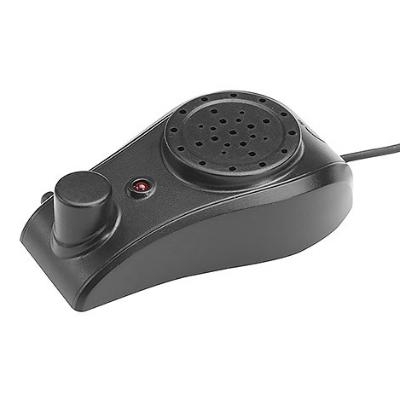 Alarming security tag vG-AT120
Model No.︰
vG-AT120
Brand Name︰
vGuard
Country of Origin︰
China
Unit Price︰
US $ 12 / pc
Minimum Order︰
10 pc
Product Description
Alarming security tag vG-AT120
Alarming security tag
is one of the most efficient security solution for display merchandising.When the lanyard cut off or the alarm RAT/Sensor moved away,the LED with continually flash red light and the alarm RAT will continually alarm
This security device comes with an adhesive tape and should be fixed to counter-tops. It is available with two different end pieces:
Simply attach the end piece to the device you want to secure and press the side knob into the display.
In case a shoplifter cuts the cable or removes it from the secured item the alarm goes off.
To deactivate the "Alarming Rat" you need to use the
magnetic detacher
which is sold seperately.
Material: plastic
Colour: black
Size: 37 x 20 x 66 mm (W x H x D)
Alarming security tag features:
Easy operation
Flexible apply, customized lanyard and sensor
Multi Alarm Technology
Visual deterrent
Small and Sleek design
Alarming products, with its loud alarm when tampered, can draw the attention of store staff so as to reduce shoplifting in real time. Through years of development and market testing, vGuard® Alarming products, available in 2 alarm, 3 alarm and 4 alarm, are acknowledged as reliable and stable.(WellGuard::
http://www.welguard.com
)
Price Terms︰ FOB
Payment Terms︰ TT
Related Products