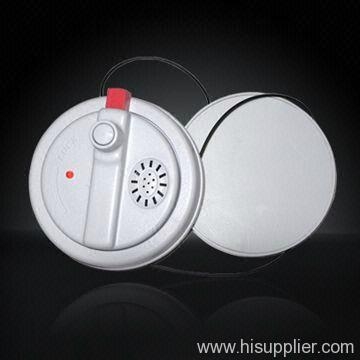 盒类捆绑防盗标签-蜘蛛防盗标签
型号︰
vG-ST002
品牌︰
vGuard
原产地︰
中国
单价︰
CNY ¥ 75 / 件
最少订量︰
10 件
产品描述
Name: EAS Spider Tag/Wrap Electronic Tag/ Box guard T034
Description: The Spider tag is a simple to fit and remove box protection tag. It expands around the item and has an easy push twist mechanism to secure the product. It is then released with a magnetic detacher. It will cause EAS (both RF and AM) system to alarm if removed from the store. It can be self alarming, meaning that if it's tampered with, it will emit an 80 dB alarm.

Dimensions: Φ72mm d x 38mm
Color: Black/white/customized
Material: Polycarbonate plastics
Detection range: 1.5_2.1m
Lanyard Length: 1.0m/1.6m/2m/customized
Weight:? G
Frequency: AM58 KHz / RF 8.2 MHz
Relative detacher: Magnetic detacher
Battery life: About 5years(depending on the usage)
Packing Details: 100PCS/CTN 0.028CBM 7kg/CTN
Box guard
The Box guard is a wrapper that protects merchandise of varying sizes. The self-adjusting mechanism keeps the lanyards from becoming twisted, and the alarm sounds if a lanyard is cut. Also, the integrated EAS technology will initiate systems alarm at store entries and exits
A Smart Battery The specially engineered and patent pending Box Guard T is designed with extended battery life in mind. The battery is in use only when the alarm is activated, and automatically off when unlocked. This auto on/off design protects high-value, hard to secure boxed shelf items longer than any other tag on the market.
Dual Alarming Technology
One Box Guard Fits All
Extended length lanyards are retractable to! Battery Off When Unlocked locks on all shelf box sizes, reducing store! Non-Twisting Lanyards inventory and drastically reducing handling! Alarms if Lanyards are Cut costs. With its aircraft grade cables! LCD and Audible Alarm
Advanced EAS Technology alarming mechanism, and built in EAS! Eliminates Product Lockdown
One Size Fits All! Easy Application, Durable PC Construction! Reduces Labor Costs, Custom Colors Available *Minimum Quantities Required technology it is virtually impossible to defeat. The sleek design won't impede product graphics, but acts as a strong visual deterrent. In the unlikely event the lanyards are compromised, the alarm sounds, and the red LED blinks providing early detection. Available in either AM or RF technologies, this tag also activates industry standard EAS alarm systems.